printable version
Assembly line for the automotive industry
June 2022
Motion control and workouts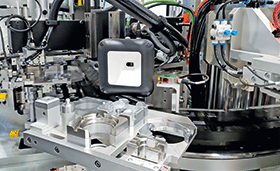 How do you design a new assembly line and continue to reduce the concept footprint by a quarter? And how to further increase the productivity of this highly consolidated line? Canadian automation experts Eclipse found the answer in Beckhoff's XTS Linear Transport System. After the second modernization, the assembly line could produce two different types of pumps with the same small footprint.
Eclipse recently updated a successful system for a customer using the Extended Transport System (XTS) to assemble automotive transmission pumps. While increasing functional capabilities, the custom solution needed to minimize footprint. "When we proposed the system, they asked us to reduce it by 25%," explains Jeff Werner, general manager of Eclipse.
The XTS-based assembly line includes four separate cells with over 50 stations for pressing, welding, screwing, flatness checks, dispensing, plasma treatment, leak testing and inspection. Many stations require precise synchronization with robots. In the first three cells of the machine, operators place the pumps on pallets attached to the XTS movers. The carefully calculated pitch of the vanes allows positioning at the micron level. When all assembly processes are completed, the operator moves the pump to the next cell. In the fourth cell, a robot lifts the completed pump in front of two GigE cameras for a final visual inspection, then places it on a conveyor for output.
"XTS moves products from station to station quickly and accurately, and if there's a problem with a part, we can bypass the other stations and just remove it," says Werner. "We consolidated several processes into a single station, which helped us further reduce our footprint. It was the most condensed automation system I have ever seen.
The first Eclipse assembly machine exceeded expectations and is still in use today. Then the automotive supplier asked for a second machine with a new challenge. A second pump should be made on the same system. The pumps were of different sizes and for different brands of vehicles. Certain assembly steps also took place in different orders for the two pumps. To maintain high flow, the system could not afford the downtime required to purge one type of pump and then perform a long changeover.
Together with the Beckhoff team, Eclipse created a new concept based on the fast cycle times of EtherCAT and the flexibility of XTS. "The system allows operators to quickly release and replace the pallet with a second type. This new paddle indexes forward and its position is measured to determine an offset. We apply these offsets to each pallet and ensure that components and parts line up exactly for the processes," says Werner. "Furthermore, because each motor appears as an individual axis of motion, they are not linked as in traditional designs. They can freely move parts around the track to specific process steps as needed, even if the order is different between the two pumps.
In addition to the XTS systems, the assembly line relied on other EtherCAT and PC automation technologies from Beckhoff. The cells featured an IPC to control their XTS track and peripherals. The IPCs communicated via EtherNet/IP to a secondary machine controller that controlled other parts of the line. Real-time EtherCAT synchronization with robotics and servo components allowed engineers to perform interpolated movements for different dispensing processes, such as applying adhesive in complex patterns. To make this advanced functionality possible, the TwinCAT 3 automation software was essential. Beckhoff's Universal Engineering and Execution Platform allowed Eclipse engineers to program the G-code that allowed the XTS and Beckhoff AM8000 servos to perform coordinated motion for high-precision dispensing.
Thanks to this innovative design, the updated transmission pump assembly system met the specified cycle time of 20.2 s per part with the required micron precision. The system produced 1,000 parts per shift, running the two parts in separate batches. The ease of releasing and securing the paddles, along with XTS's instant automatic indexing, have nearly eliminated changeover times, reducing them from over an hour to just one minute. The controls and mechanical engineering ensured easy release of the paddles without removing a single bolt.
"Eclipse has innovation in its DNA," says Werner. "For programming pallet control, pallet shift tables and similar requirements, Beckhoff offers many advantages over other options and saves a lot of engineering time. With Beckhoff's help, we tackled many other unprecedented high-speed and micro-assembly applications, including Covid test kits.
For more information contact Dane Potter, Beckhoff Automation, +27 79 493 2288, [email protected], www.beckhoff.co.za


Credits)
Further reading:
The brake takes the heat from an aluminum foundry

Motion control and workouts
With superheated molten metal moving through the facility, aluminum foundries need equipment that operates at the highest level of reliability. Ensure that the winch installed on its aluminum smelter …
Read more…
---
Electromagnetic brakes for miniature DC motor applications

Motion control and workouts
Mini motor applications use DC motor technology due to their compactness, low weight and reliability. Stopping, slowing down or maintaining the position and load of these motors is crucial for many applications, …
Read more…
---
An innovative alternative to mechanical seals
Bearing Man Group as BMG Motion Control & Drives
BMG's Garlock line of sealing products includes a versatile sealing system that replaces mechanical seals in industrial pump applications. Garlock's Hydra-Just system is a reliable, leak-free rotary system …
Read more…
---
High efficiency electric motors for mining
Bearing Man Group as BMG Motion Control & Drives
BMG's highly experienced team of electric motor designers and engineers have worked closely with global electric motor specialists to develop high-efficiency electric motors that set the benchmark locally. …
Read more…
---
Production of ultra-compact robotic cakes
Motion control and drives Beckhoff Automation
A new solution for food manufacturing has been unveiled by confectionery manufacturer Juchheim. His robot, Theo, bakes high-quality Baumkuchen. This is a German style of layer cake that has become …
Read more…
---
Power supplies with EtherCAT interface
Beckhoff Automation Power Supply and Protection
In the case of system monitoring, important operating parameters such as output current and voltage are transmitted in real time and continuously updated
Read more…
---
Standard-compliant differential current transformer
Beckhoff Automation Sensors and Transducers
The SCT5564 can be used as a residual current monitor and can measure DC and AC residual currents with a frequency of up to 100 kHz in the range of 0 to 2 A.
Read more…
---
Polymer linear guides adopted worldwide

Motion control and workouts
The lubrication-free drylin linear guide product range is based on the principle of "sliding instead of rolling".
Read more…
---
Plug-in system solution for automation without control cabinet
Beckhoff Automation Enclosures, Wiring & Connectors
Beckhoff's MX system offers maximum efficiency to machine builders, control cabinet manufacturers and end users.
Read more…
---
ML compensates for "cogging" in high precision linear movements
Motion control and drives Beckhoff Automation
Using the recorded data, the servo motor software forms a neural network which is ultimately integrated into the control system for current precontrol.
Read more…
---