The far-reaching Covid-19 lockdown orders enacted in Shanghai in April 2022 have now been extended, signaling further disruption for auto players operating in the city.
The move comes in response to the city's infection rate remaining stubbornly high from the Omicron variant and China's broader commitment to its "zero-Covid" policy. Current indicators suggest the lockdown has seen factory activity in the city fall to its lowest level in two years since the start of the pandemic.
Why Shanghai extended its confinement
The city had enacted its initial two-phase lockdown plan. Initially, the restrictions would be applied to areas east of Shanghai's Huangpu River, where most of its factories are located. It was expected that from Friday April 1, the lockdown east of the river would be lifted and moved to areas west of the river. However, with infections not abating, the eastern lockdown has been extended. This, combined with the western half of the city now in lockdown, means Shanghai is effectively under full lockdown restrictions.
Already, electric vehicle giant Tesla had extended the planned shutdown of its Shanghai gigafactory until April 2, but it is very likely that further shutdown extensions will be needed if the city remains under restrictions. In early April, it was reported that the plant had been unable to restart. Similarly, Volkswagen's joint venture with SAIC was forced to close part of its Shanghai plant in response to spare parts supply difficulties. General Motors is also active in the city but has managed to keep its production lines moving by having workers literally sleep on the factory floor to maintain a 'closed loop' facility as instructed by local authorities.
The shutdowns in the city have also affected auto suppliers, including Aptiv and ThyssenKrupp, which have both ordered workers to go home. Bosch has two factories in Shanghai, both of which are currently operating with reduced staff. Toyota's heavy-duty truck division, Hino Motors, also operates an engine plant in Shanghai, which was forced to halt production in response to lockdown orders. One of the main difficulties faced by most of these companies is not only the risk that their factory will be ordered to close or that they will not be able to receive parts deliveries, but, even if they can physically open doors, their workers may not be able to leave their homes. buildings as lockdown orders evolve.
GlobalData's light vehicle production forecast, generated before the lockdown was extended, shows production in Shanghai* for March 2022 is expected to reach around 172,000 units. With most of the city's major automakers planning at least a full week of shutdowns, it's likely that around a quarter of that total – around 43,000 production units – will be lost. In theory, if the shutdown also continues in the first week of April, it could cost another 40,100 units, bringing the total loss during the Shanghai shutdown to 83,100.
Four major automotive groups account for the overwhelming majority of light vehicle production in Shanghai:
GM is building a range of Buick and Cadillac models for local sale, with pre-lockdown forecast calling for around 46,000 production units in March 2022
SAIC produces a number of MG and Roewe branded vehicles, with pre-lockdown forecasts for March 2022 suggesting it would build around 13,400 units
VW's joint venture with SAIC builds a variety of Audi, Skoda and VW models – pre-lockdown forecast for March 2022 puts VW-SAIC production at around 62,000 units
Tesla's biggest factory by volume is its Shanghai operation, which makes Model 3 and Model Y vehicles. Pre-lockdown forecasts suggest it would have built 50,600 units had it not been for the impact of COVID restrictions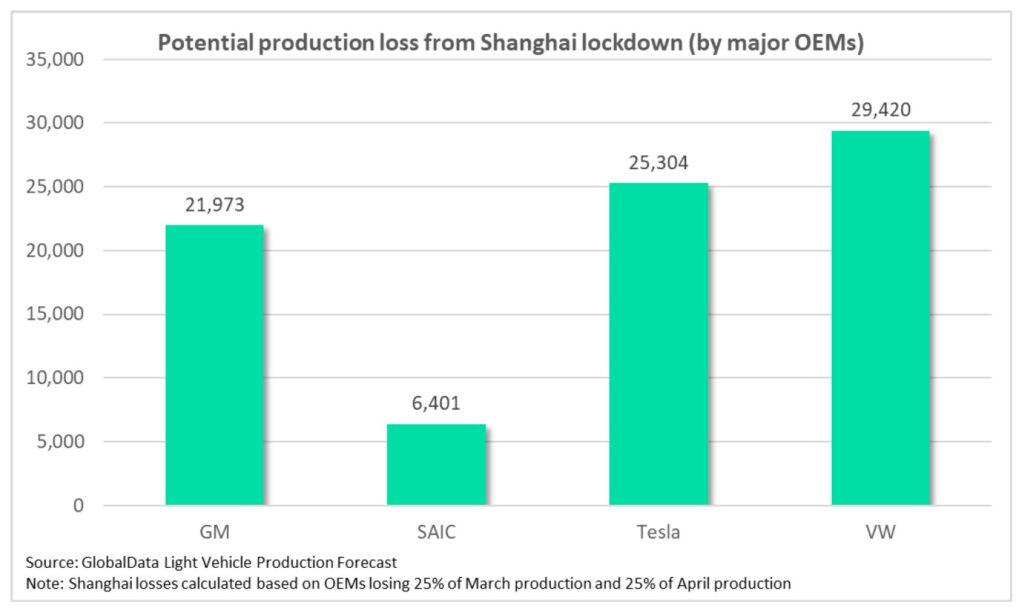 In the near term, most automakers in Shanghai are expected to continue cutting production estimates as the movement of parts and factory workers in the city remains limited. However, China's authoritarian ability to enact and firmly enforce far-reaching lockdown orders means it has a reasonable chance of eradicating the current wave of infection faster than some comparable Western countries could in a similar scenario.
*'Shanghai' here refers to a circular area with a radius of 30 km around the city centerregarding.
This article originally appeared in Just Auto.